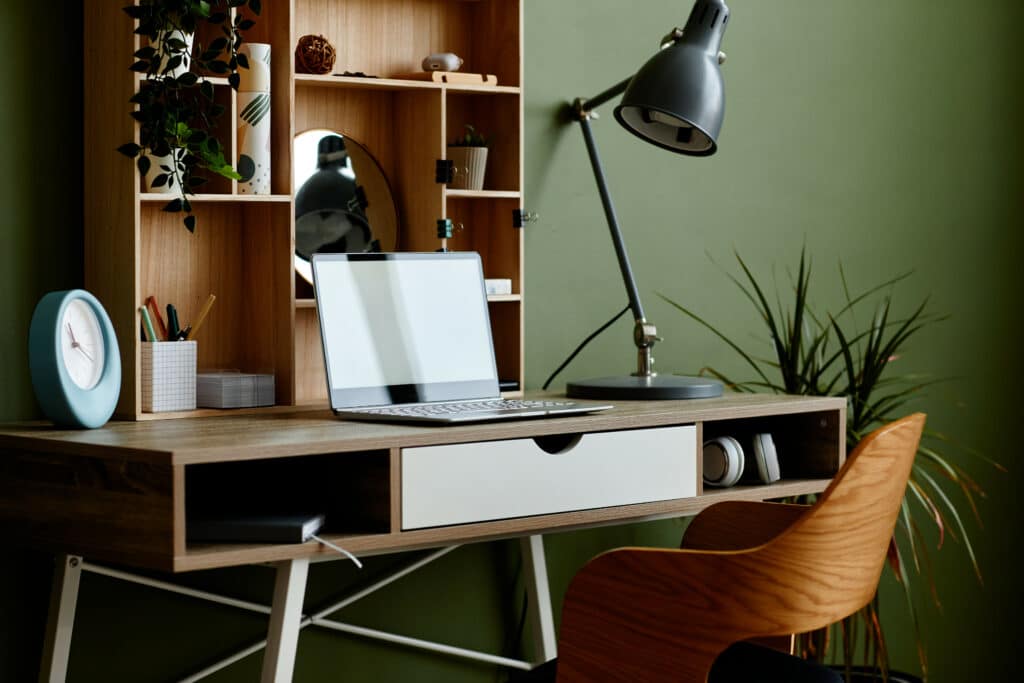 Home offices are becoming less of an 'added bonus' and more of a 'must have' for many properties in Basildon. Hence, it's unsurprising that many homeowners are asking for easy ways to make a home office feel comfortable.
With remote working common and more people spending their days indoors, a home office must be a calm, constructive and comfortable space to work in. This can be challenging when children, pets and limited space are in the mix!
In this article, we'll share four easy ways to make your home office feel comfortable when you're working from home daily, increasing your productivity too!
How Can I Make My Home Office Feel Comfortable?
1. Invest In A Decent Chair
This is so important! If you're feeling uncomfortable in your home office, your choice of chair could be the issue. Investing in a high-quality, ergonomic chair can make a world of difference to how supported and relaxed you feel throughout your working day. It could even make you more productive!
2. Upgrade Your Desk
Space can be another reason why your home office doesn't feel comfortable. If you have a small desk that makes everything feel cramped, and you're continually shuffling paperwork around this could affect how positive you feel when working in your office.
If you've got the space, upgrade to a larger desk more suitable for your needs. Make sure you choose a style big enough to fit all your essential equipment without feeling cramped.
3. Tailor The Lighting
Is your home office too dark? Or too bright?
A healthy dose of natural light is ideal for a home office to keep you feeling awake and productive. But too much sunlight can cause glare on your screen, making it difficult to work without squinting!
If this sounds like a familiar issue, think of ways to make your home office comfortable all year round. Invest in light-filtering curtains, day and night blinds or a good reading lamp. These things will help tailor the lighting in your home office to suit your needs and make you feel more comfortable.
4. Regulate Temperatures
Being too hot or too cold in your home office can undoubtedly affect how comfortable you feel. Regulating temperatures can be tricky, especially if your home office is in a small room that gets very hot or is in an open-plan area that gets very cold! But an optimum temperature will greatly affect how comfortable you feel.
Final Thoughts
Making a home office more comfortable will mean different things for different people, but our simple tips will give you a better idea of how to make your space more pleasant to work in.
If you're interested in learning more about how a good home office can affect the resale value of your property, Roger Bates Properties are your local estate agent in Basildon, and we'd love to provide a valuation of your home.
What Next?
Ready to sell? Would you like a FREE Property Valuation in Basildon?
Roger Bates Properties (partnered with Keller Williams 'The World's Largest Estate Agent') are your local property experts for the Basildon area. Call us on 07494 803917 or email roger.bates@kwuk.com to find out how we can help you.
Get Ahead of the Crowd!
Bookmark our blog to get regular Property Advice
We post our properties on Facebook before they go live on the property portals. Follow us on Facebook and find out about new property listings first!
Follow us on LinkedIn for more updates