Do you live in Basildon or are you looking to move to Basildon? Here we take a look at some of the best things about living in Basildon.
Situated in the county of Essex, Basildon is a borough that is only 26 miles away from Central London.
A fun fact about Basildon is that it's the hometown of the 80s electronic band Depeche Mode, they have sold over 1 million records and have 35 million fans worldwide. Basildon has lots of transport connections to London, as well as a whole host of amenities. It's a great place for commuters as it provides both rural living while being cosmopolitan. It's important to note that the C2C train line benefits the town area, as well as fast trains that go to London Fenchurch Street.
Basildon also provides brilliant housing opportunities, amenities, and city connections, it's the perfect place for young professionals who have growing families. Basildon provides locals with the beautiful Essex countryside as well as lots of coastal areas being easily accessible by road. So if you're thinking about moving to, or buying a house in Basildon, read on.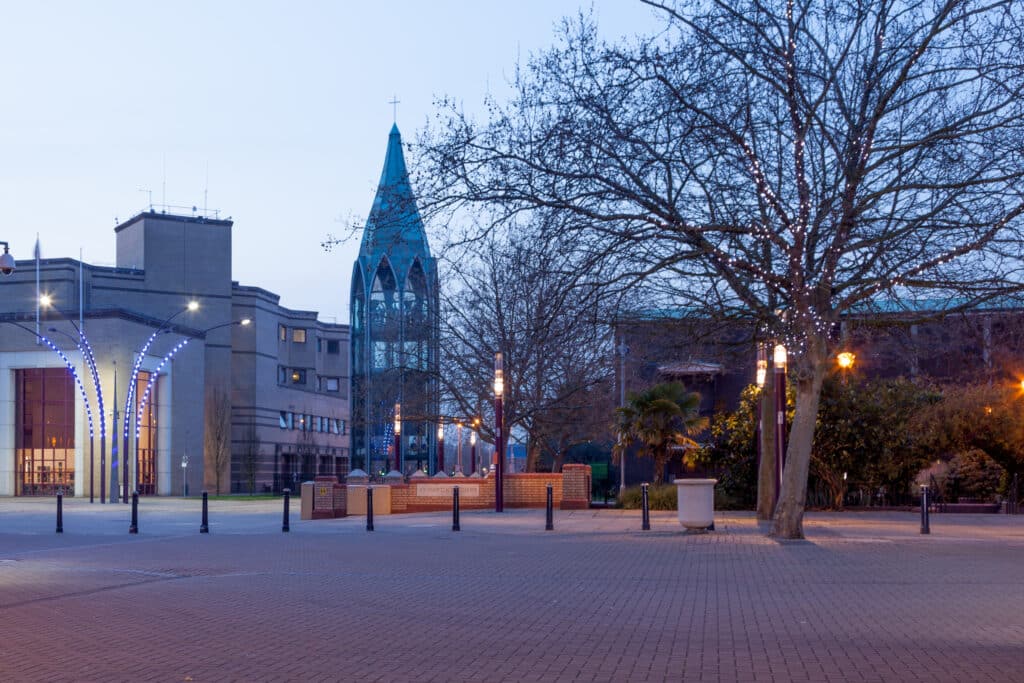 Basildon Property Market
Living in Basildon provides a range of benefits for many buyers, currently, the average price for a house in Basildon is £321,082. The property prices in Basildon provide great value, especially when comparing them to other areas in the UK, including London. When comparing this to the average house price in London which is £727,743, it's easy to see why people are choosing to move to Basildon.
Basildon house prices demonstrate excellent value, especially in comparison to other areas across the UK. As property experts, research has shown that detached homes in Basildon are coming in at £487,670 and semi-detached homes are priced at £358,018. If you're interested in a terraced home, you'll pay around £301,746 and for a flat, this will cost £191,404.
Cost of Living in Basildon
If you live in Basildon, you'll know that there are plenty of great places to eat, when it comes to restaurants and supermarkets, there's a whole host of excellent options. Here we summarise restaurant prices, a cheaper restaurant meal will cost around £13.50, 2 meals at a mid-priced restaurant will cost around £60.00 and a fast food meal will cost approximately £7.
We have also looked at the essentials, research has shown that 1 litre of milk is £1.09, a loaf of bread is £1.05, 1kg of chicken is £6.17 and a takeout cappuccino coffee is £2.75. Basildon is also home to all of the big name UK supermarket brands and shops.
Things to See and Do
When it comes to living in Basildon, the area provides so many activities, from outdoor events like The Nature Trail at Dunton Hills to Essex's 450 acres of countryside, perfect for a weekend walk. Langdon Hills Country Park is also a brilliant spot, it boasts amazing views of the Thames and is an attraction worth visiting.
Another popular place is the Festival Leisure Park, fully equipped with a cinema, health and fitness club, as well as Hollywood Bowl and lots of brilliant restaurants. There's also Basildon Sporting Village, which is an activity hub that includes a sports hall, gymnasium and swimming pool. Lots of Basildon residents tend to visit the seaside town, Southend-on-Sea.
If shopping is your thing, then you can check out Eastgate Shopping Centre, which is home to all the main high street shops and brands, as well as an excellent food court.
Schools and Education
Basildon is known for a number of great primary and secondary schools, from new families with young children, the options cover primary schools, secondary schools and nurseries.
The top three schools include Lee Chapel Primary School, the Phoenix Primary School and St Anne Line Catholic Junior School. There are 9 secondary schools for students living in Basildon, as well as three colleges, the three colleges include South Essex College, New Campus Basildon and PROCAT (formerly Prospects College).
Basildon also provides its residents with a great choice of schools, guaranteeing that the children in the area get the best possible choices.
What's On in Basildon?
Basildon provides a big community feel, it has lots of local gatherings as well as fetes, festivals, and events that happen throughout the year. Basildon Pride and the Show Me Love Festival are summer events that include bars, food stands, DJs, and live musical entertainment.