Instant Online Property Valuations
As highly experienced local independent estate agents we know recent property sales could have changed the value of your home. Use our FREE Instant Online Property Valuations Tool to find out the value of your home in less than 60 seconds
Your own property expert
I will always visit your property to calculate a true market value.
You're in control
There is no obligation to use Roger Bates Properties once your property is valued.
Lets get you the best price
Experience means securing the right buyer and negotiating the best price possible for you.
With you at every step
We are available to you 24/7.
Instant Online House Valuation

Online Property Valuation Tool
For an instant valuation, get in touch with Roger Bates Properties, your local estate agent. Our instant online property valuations services will provide you with the estimated value of your house price. All you need to do is include your information and we will use land registry data and market trends to determine how much your house is worth.
Our valuations are instant and our expert agents will provide you with the top end, low end and an average price for your property. For more information, get in touch with the expert estate agents at Roger Bates properties today.
When looking to sell, buy or make improvements to your home, you will want to know how much it is worth. A house valuation covers a range of areas, from calculating the house and land worth to including the costs of home improvements to maximise the value achievable.
At Roger Bates Properties, we have done all of the necessary research and will help you to get the correct value for your home.
Online House Valuation from Roger Bates Properties
If you are asking the question – 'how much is my house worth?', our online valuations will provide you with your house worth instantly. Some property owners will consider an in person valuation as they may think that it will be a more accurate valuation, however our online tool will ensure an instant estimate and take all the necessary information from the local market and neighbouring properties.
So whether you're a buyer or a seller, you need a valuation to sell your home, or a lettings valuation, our tool will help you to get an accurate property price.
At Roger Bates properties we offer a free online calculator that you can use to help you to find out what your home is worth. As an easy to use tool, it can be used by every one who is in the home buying and selling market.
Is An Online Property Valuation Accurate?
As estate agents, we understand the importance of accuracy in property valuations. That's why at Roger Bates Properties, we use a complex algorithm to calculate our valuations. This algorithm takes into account local market conditions, recent sales prices in your area, and comparisons to similar properties nearby. In fact, our valuations are often within 15% of the current property value.
But we don't stop there – we regularly review and update our valuation method using Land Registry data to ensure that we're always providing the most up-to-date property prices.
Don't forget to check out our free online valuation tool available on page. Let us help you make an informed decision about your property's value.
Can You Add Value To Your Property And Is It Worth It?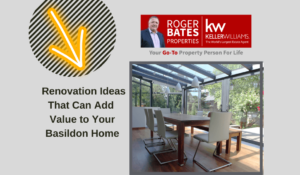 One of the easiest ways to add value to your property is through simple home improvements. New paint, carpet, or upgraded appliances can go a long way in improving the appearance of your property. Another option is to expand your living space by converting attic space into a bedroom or office but make sure you consult with your local authority first, to find out if you need planning permission for any home improvements.
It's also important to pay attention to kerb appeal, as updating your landscaping or adding outdoor entertaining space can greatly increase property value. On top of that, getting a free property valuation or using a home valuation tool can provide valuable insight and guidance on areas where you can improve and add value as well.
Ultimately, making smart updates and improvements to your property can greatly increase its value and make it more attractive to potential buyers.
For an Accurate Personal Home Valuation, Check Out Roger Bates Properties
For an in-person valuation of your home or a property that you are interested in, check out your local estate agents, Roger Bates Properties. Roger is an experienced agent who will help value your property and help you get an easy estimate on house prices and how much your home is worth. Should you require more details, get in touch with our team today, we can always be on hand to answer your questions.
No matter what you need, as an expert in the local market, Roger Bates is the best placed to help. Rather than dealing with a variety of people during a tenancy, as your local agent, Roger will become your go-to person.
Is A Personal Home Valuation Free?
Yes. All our home valuations are free to you, whether it's online or in-person. We would welcome the opportunity to show you waht your home is worth now and even advise you on what low-cost home improvements that you could implement to increase the value of your property.
Why Choose Local Estate Agent, Roger Bates Properties?
Sell your property for more than 2% OVER the national average – that's what we achieve here at Roger Bates Properties, on average, for our seller clients over the last year. And that equates to around £9,000 EXTRA in each of our clients' pockets.
Not only that, we've saved our clients £11,000 to £45,000 on the purchase of their next property – when we've negotiated our client's onward purchase for them. All in all, making each of those clients £20,000 to £54,000 BETTER OFF – just by being a client of ours!
And we can do exactly the same for you.
Here are some of the reasons why you should choose Roger Bates Properties:
Roger Bates Properties is partnered with Keller Williams – The World's Largest Estate Agent – giving you unrivalled resources at your disposal

You can talk with Roger Bates day or evening 7 days a week for advice or just a chat.

With Roger Bates, you'll have information at your fingertips, over 38 years of genuine local knowledge and experience working for you and your best interests

You can have every viewing appointment accompanied by Roger or Michelle Bates, providing you with instant feedback

You'll have Roger Bates, the business owner, by your side from start to finish. Roger purposely limits the number of properties he takes on each month so he can give you guaranteed time with him personally, one to one.

You'll have pro-active social media campaigns launched in addition to extensive advertising on all major portals – Rightmove, Zoopla, On The Market, Boomin, Prime Location and many more – to reach active and passive local buyers as well as utilising the huge Keller Williams referral network to attract buyers from London and farther afield – Unbeatable marketing in the industry. All designed to sell your property for the best price, in the least time – and without the hassle! Get an Accurate Valuation Today